Who we are
We are Aaron and Mayuko Ghent.
Aaron spent 5 years serving in Japan as a single and in 2020 was married to Mayuko.
We are now preparing to go to Japan as missionaries as a couple sent out from OMF Canada.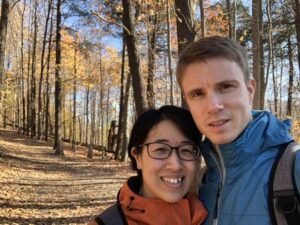 Here is our profile:
Aaron grew up in Aomori Japan, as a missionary kid of parents who were OMF church planters. He accepted Jesus as his personal Saviour at nine and offered his life to God at a Christian camp at sixteen. While attending Moody Bible Institute for his BA in Evangelism and Discipleship, he was part of a ministry reaching Japanese students. He sensed God's call to return to Japan to share the gospel. He joined OMF single and served his first term in Japan, involved in youth and college student ministries.
Mayuko was born in Saitama, Japan in a Christian home. In High school,she attended an interdenominational youth club where she met with Christians her age and one Korean missionary. Through these encounters, she started to know the Gospel more and became aware of her sinful nature. In her first year of university, she made a profession of faith. Through the challenge given by the Korean missionary in the youth club and reading scripture, God called her to dedicate her life to serve Him as a full time Christian worker. While working after university, Mayuko started a youth group at her church as she was burdened for youth. While leading this group and praying about how to fulfill her calling, she met Aaron. They were married in Japan in January 2020.
Aaron's Interest and hobbies:
Basketball, Soccer, Ultimate Frisbee, hiking in nature, listening to music, writing rhymes.
Mayuko's Interest and hobbies:
Cooking, going to cafes and chatting with friends, playing the piano, seeing beautiful nature.